BOXWISE - A SOCIAL SYLLABUS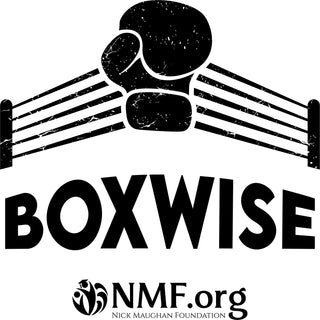 BOXWISE
"
Boxing is a kind of magic, it gives strength to the weak, discipline to the wild and confidence to the shy"
.
BoxWise is building a better nation; physically, mentally and emotionally. They are a social enterprise, using non-contact boxing as a building-block to a brighter future for young people. Boxing provides a structure for young people to channel their energy and to learn about themselves. Each participant is provided with a meal after every session, along with additional mentorship and support, providing a safe place to develop. 
BoxWise collaborate with a network of organisations and community groups across the United Kingdom, to identify those who will most benefit from their programme. They empower the clubs that they work with to engage with local youngsters, as each club is at the heart fo their own community. This outreach ensures that nobody in large cities nor rural towns are overlooked. 
Started in 2021, BoxWise are working with an ever-growing list of clubs (ca. 30 at time of writing) across England, Scotland and Wales, where accredited England Boxing coaches teach an effective and structured 13-week program, in a safe and controlled environment. The syllabus is designed to transfer values from boxing to everyday life. Based on six core components of; purpose, adaptability, imagination, discipline, emotional control and team work, graduates are better placed to engage with the work force.
Purpose
Having a purpose drives us to achieve something - but first we need to set out a plan to get there. Goal setting is the process through which we channel our motivation - in order to turn a vision into reality. When we set our goals, it is helpful to write these down and to be positive about the journey.
Adaptability
The ability to adapt to our surroundings is a skill that must be developed in order to be successful – as much in a job interview as in a fight. Your success will come more easily if you're able to change your behaviour appropriately according to your surroundings.
Adaptability allows you to learn new skills in ever changing circumstances. Employers look to hire people that can adapt, grow and evolve within the work environment.
Imagination
All the inventions we see around us have been developed in someone's imagination. Sometimes inventions are inspired by a need for change. Sometimes they are the realisation of dreams that others thought impossible.
We have all been given creative gifts but many of us don't use our imagination to develop them.
Discipline
Continuous training develops a pattern of behaviour. The discipline to keep practicing these behaviours form strong and lasting habits that help us to grow.
Success requires discipline in the physical, mental and spiritual areas of our lives. The commitment to eat right, exercise frequently and make wise choices are vital. Simply put, be a "disciple of discipline".
Emotional Control
We've heard it said "don't lose your head!". Rather than reacting to the emotions we feel, we need to listen to our head and respond in a positive way.
When we endure hardships or people do us wrong, think of the difference between reacting and responding.
Conscious breathing, positive language and focus are three skills that can help us deal with emotional turmoil. These skills should be practiced when we find ourselves in hard situations or times of conflict.
Team Work
One of the most important lessons to learn in order to be successful in what we do is to learn how to work in a team. To be a good team player requires effective communication with others. Social skills are useful in almost every situation, and can help people succeed in whatever career they choose.
Members of a team have to listen to their coaches or managers in order to learn how to perform their individual roles. Next they have to learn how to listen to each other in order to function as a team. The better someone is able to communicate, and the better their social skills, the happier they will be as a member of their team.
Employers also prefer employees who have these skills. Employees who work well with others are happier and more productive in their jobs. And of course, happier more productive employees do better in a company, develop greater productivity, which leads to better pay, more promotions, greater job satisfaction and deeper fulfilment and happiness.
In addition to equipping young people with life-long skills, BoxWise also offers practical advice and progression routes to help its graduates enter employment or further education. Following one-to-one mentoring sessions in 2021, BoxWise placed over 20 young people into full time employment, after completing vocational courses in Personal Training, catering, boxing coaching and many more subjects.
BoxWise is supported by an impressive team of Brand Ambassadors and Advisory Board members. These include professional boxers Hannah Rankin, Lawrence Okolie, Joshua Buatsi, and Anthony Crolla as well as the entrepreneur Ayo Gordon.
The entire BoxWise initiative is currently sponsored by the Nick Maughan Foundation https://nmf.org/ - and the hope is that BoxWise will achieve charitable status in the coming years. This will allow for a far bigger base of sponsorship and donations. BoxWise have already expanded internationally and the roll out is gathering great momentum. We hope BoxWise can be a catalyst for long-lasting, positive change both nationally and internationally. There is so much more to boxing than punching.
Get in contact if you wish to refer someone to the program or help, via email: