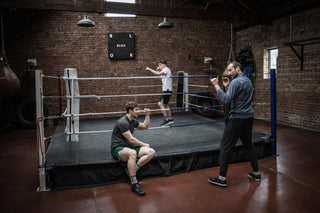 We exist to empower you
🥊 We fight for enhanced mental wellbeing
🥊 We build exceptional products that are made to last. Buy less - buy well
🥊 We make pan-seasonal clothing and will not churn out copious collections to follow the sun, nor produce excess units requiring heavy discounting to exit
🥊 We are about inclusion and community. Just because boxing is an individual sport, doesn't mean that you're alone
REAL is committed to a better world

VISION
Inspired by the intensity of boxing and a fit-for-function philosophy behind our performance clothing, we strive to inspire in our audience a curiosity in how much better they can be, mentally, physically and emotionally through physical action. 
Expressing our physicality is an essential counterpoint to our modern, screen-oriented and cosseted lives. This is when we feel most free to be ourselves. As information and intelligence become the domain of computers, we place an increasing value on the one human ability that cannot be automated: emotion. Be you - be REAL.

We are proud supporters of Place2Be, a charity that provides emotional support for children in schools.