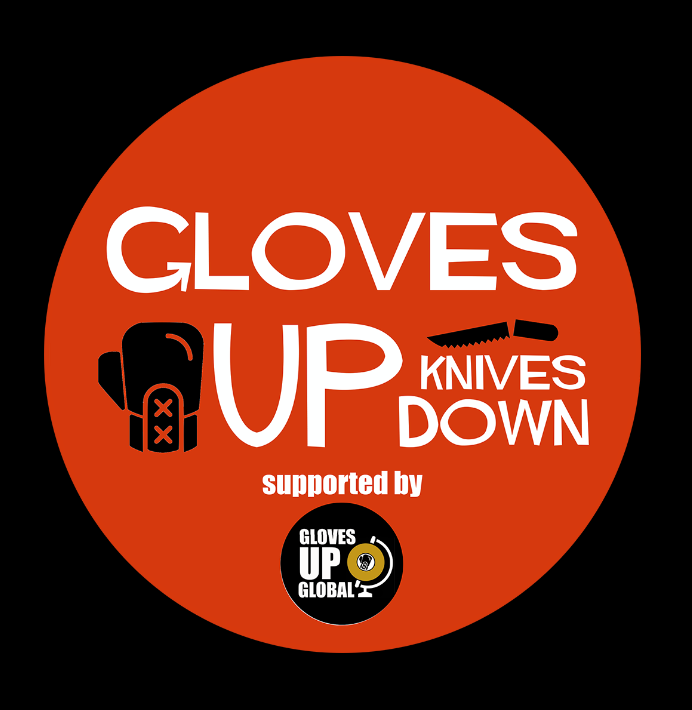 "Bring Boxing Back to Schools"
Gloves Up Knives Down, founded in 2019, is a Social Enterprise committed to supporting young people living in communities affected by knife crime, providing access to boxing training to help them lead fulfilling and healthy lives away from crime. It was founded by; Finn Barrett, Joe Brett, Dane Nicklen, David Edgell and Ian Kisberg.
"We started as an initiative trying to raise the awareness of knife crime in London. Using boxing as a conduit, as an alternative to people possibly thinking about going out on the streets and picking up a knife," explains David Edgell, one of the Co-founders.
GUKD is a registered charity whose ethos is 'preventative intervention'. They believe the discipline of boxing can allow young people to channel their energy in a more productive and positive way. Helping to build young people's physical fitness and mental well being as well as helping to create stronger communities.
In the past decade London has witnessed a surge in knife crime, accounting for almost 80% of all homicides across the Capital. The total number of actual knife offences in London, also increased by some 90% between 2011 to 2021. Disproportionately these violent crimes involve teenagers. 
A recent study in 2020 concluded that the majority of fatal knife offences were due to gang activity in London, with around 37% of all homicides gang-related. The report concludes that knife crimes are on the rise due to a rise in gang membership. The increase in such gangs has been linked specifically to a lack of opportunities, unemployment, lower levels of education, social housing and the challenges posed in balancing things such as parenting and employment in single-parent families.
GUKD is a response to the lack of meaningful action taken to curb knife crime. It is a grass roots, high visibility initiative to encourage young people off the streets and into Boxing clubs.
"If anyone spent two hours in the boxing gym, you know that you're going home to sleep, and as simple as that sounds, that's such a good deterrent on keeping people on the straight and narrow," explains Joe Brett, one of the Co-founders. "Boxing takes discipline, it takes hard work, and very quickly you realise, your interpretation of what a tough person is will change," he adds.
The driving belief is that discipline and respect learned through boxing can have a positive impact on young peoples lives, teaching them life skills that can have a positive influence outside of the boxing gym. "You have to go through a very rigid structure. You have to respect your opponent. You have to respect your trainers and there are rigorous protocols," says David Edgell. 
The charity works with communities primarily across the Capital, to provide access to boxing facilities and training. Through donations and merchandise sales, they can provide boxing kits and training sessions to young people in disadvantaged areas. There are no barriers to entry, all training is free.
GUKD can boast a phenomenal list of professional boxers who act as ambassadors, who carry their positive message and support everything that GUKD stand for. These professional fighters help to change the image of what it means to be tough and none of them have any regard for knives. One such ambassador, is Brixton-born Isaac Chamberlain, who firmly believes that boxing steered him away from gang-culture and a life of crime. 
"It's so important for these kids to know that they have someone believing in them, especially in a place like a boxing gym because it's hard out there," states Isaac. "This is what GUKD is all about, that you can go and be embraced by a different kind of family. There's a lot of respect in here and everybody supports one another as well," adds David Edgell.
GUKD believes a multi-disciplinary approach is needed to tackle the root cause of knife crime. Over the years, the organisation has witnessed the positive impact boxing has had on young people's lives. "It's about guiding them, it's about making them happy. It's about inspiring them. If I can convince one child to at least change their life to change their way of thinking, then I'm doing my job," says Isaac.
It is clear that a multi party, multi disciplinary approach needs to be taken to tackle this catastrophic violence, including tackling the root causes of knife crime and providing diversionary programmes and interventions to young people. 
GUKD represents an ever-growing number of people who want to know what the government can do to effectively deal with knife crime. They invite the government to partner in their implementation of Preventative Intervention, by reintroducing boxing to the National curriculum.
We at REAL firmly support the reintroduciton of boxing in schools.
To read more, support or donate, please visit - https://glovesupknivesdown.co.uk/