TOP 5 - BEST BOXING CLUBS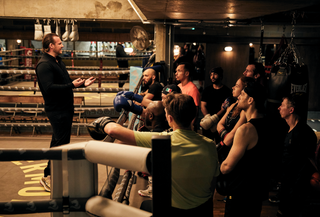 1. Rathbone

Number one on the list deserves its position and you deserve an explanation why. Rathbone first opened their doors in 2019 with a clear mission to bring Amateur boxing club culture and authenticity, with rigorous training mixed with modern conveniences, customer-service and top-level teaching. In other words Rathbone's classes are as technically proficient as any ABC, mixed with all the amenities (yup - white towels, soaps, showers, lockers, cold drinks, coffee, equipment and clothing for sale etc), top-of-the-range equipment and professional teachers who all have a CV boasting Amateur-level boxing experience. Some teachers have been semi-pros themselves, some pros and several have coached pros too. Rathbone's boxing curriculum and class-content was even curated with the help of Adam Booth - currently one of the most renowned coaches in the Professional ranks. There is simply no other boxing club inside the M25 available to everyone, who offers such a high level of learning, in a modern and fully-fitted studio, with an appealing and inclusive club atmosphere. Classes are varied, just as popular with women as men, they focus on technical teaching points and the teachers will get you hooked with their infectious enthusiasm. The club is open all day with a full class schedule, while also functioning as a fully-fledged ABC on some evenings. The best part about it all is that the club has just moved 75-yards down the road to an even bigger, slicker studio space with room for two rings.
#rathboneboxing

7 Rathbone Sq, London W1T 1JW
2. Camden Boxing Club

The first thing that hits you (not physically!) when you walk into the studio space at Camden is how big it is and put simply how cool the place looks. The space is so well considered, fit-for-purpose, clean, well lit and spacious. There are several dedicated zones across the studio that show off the sophisticated level of training that takes place here. There are two rings, a tiered bench to accommodate 30 people to oversee the main ring, two different bag areas, speed balls, a weights area, mirrored zones for shadow boxing, a sled runway, cardio machines, private wc cubicles, separate changing rooms, sauna, showers, steam room… the second ring is in a semi-private, secluded area that can be made entirely private with the help of curtains. The venue has caught the boxing world's attention and has hosted media days, professional fighters training days and is an enviable studio location for filming. Asides an unmatched set-up, Camden too boasts a very high-level of coaching. The trainers here are all hugely experienced, with Amateur-pedigree and apply their expertise to the classes, meaning you take away something new and improved every time. Don't be surprised if you see a professional fighter training in the ring while your class is conducted in the bag area. This is the home of authentic boxing mixed with central London amenities and style. The club will greet you with a fully-stocked cafe + equipment store on entry, with a comfortable area to sit and wait for your class or settle and relax after your class. There is a large neon installation of Amy Winehouse on your way downstairs, an ode to the doyenne of soul, rhythm and blues - that's cool.
#Camdenboxing

47 Kentish Town Rd, London NW1 8NX
3. 12-ROUNDS

This centre of excellence is right opposite Clapham Junction. It is split over two floors, with a ring on each and boasts a huge first floor studio, with high ceilings. There is a large reception area where folks gather before or after class and you can see through a glass partition into the substantial space, equipped with a full-size ring, plenty of top-quality bags, with generous floor space given over to warm-ups, warm-downs, shadow boxing and cardio exercises in between rounds of punching. There is a lovely atmosphere here, it is very welcoming to all levels, ages and backgrounds and there is no need for over-stylised features or modern finishes to convince you they're anything other than "real boxing for real people". The wooden parquet flooring throughout the first floor evokes a sense of heritage and authenticity. Whether it's training for fun and fitness, for a fight or wanting to be part of something social, 12-Rounds offers a variety of classes and courses that cater to it all. The owner Kat is almost always around and she loves bringing the joy of boxing to the uninitiated, empowering women and ensuring everyone is welcome. The quality of teaching and the upful energy of the teachers is very noticeable. There's no mistake that this place takes great pride in delivering something authentic and excellent.
#12roundsboxing

1A St John's Hill, London SW11 1TN


4. BRONX LDN

They opened their doors in February 2023 with 6,000 square feet of gym space and they are on a mission to show the world that "boxing belongs to everyone". The owner Marnie Swindells was herself a boxing fanatic and previous gold medal winner (twice!) of the Haringey Cup. Marnie is also more recently known for winning the Apprentice… but I digress. This club's usp is the most fantastically large, open space - you could do your sprint work end-to-end. The ceiling is about 25-feet above the floor and the stylish branding of Bronx LDN gives it an alluring identity. There is a full-sized, raised ring at one end and a variety of bags line the 30m wall. But fundamentally Marnie has curated a gym that "combines the authenticity, integrity and substance of a local amateur boxing club with the style, professionalism and customer satisfaction of a commercial gym". Marnie herself is regularly on the class roster and when she's not the coaches have all the experience you'd expect for a gym that exists to show you the magic of the sweet science. This gym fosters an atmosphere of 'better together' and wants to bring people forward physically as well as mentally. There is a clean environment, with modern showers and a smooth booking system. Perhaps it's the Marnie effect, but for now they boast a very high female membership - circa 60% of members are women.
#bronxldn

Bronx Gym, Vicarage Grove, London SE5 7LP
5. Bermondsey Boxing Club

This is the third opening by The Boxing House, who's influence in the boxing ecosystem continues to grow. Bermondsey is their first gym South of the river and it is characteristically large, well-proportioned, beautifully choreographed, fitted with state-of-the-art features and firing on all cylinders since it opened. The team here has excellent boxing credentials, but recognise that all those who walk through the doors aren't necessarily the next breed of white collar warriors and they cater to everyone at every level at Bermondsey. Typical of The Boxing House, the fit-out in this gym with its full-sized ring has caught the attention of the promoters, professionals and boxing media. Don't be surprised if you spot a known professional training there or come across an upcoming masterclass with a well-known character from the boxing world. These masterclasses offer something otherwise unavailable anywhere else in London, for appreciative enthusiasts. Recent masterclasses include; Ben Davison, George Groves and Johnny Nelson for example.
#bermondseyboxing

153 Tower Bridge Rd, London SE1 3LW

*Take note that there is a 4th outlet opening up this September in Kensington, owned and operated by The Boxing House.

Special mention to - Miguel's. This goes on my list because it is what it says it is - "London's friendliest boxing gym". You can walk into Miguel's and choose to pursue MMA or Boxing; there are great facilities for both. But the number one reason why Miguel's makes it on to this list is their community sparring classes, hosted by expert coaches. The sparring is well supervised, controlled and you will learn. Anyone better than you will respect your position, but be prepared for hard work. You may want recreational sparring or you may be sharpening up for a white collar fight; either way Miguel's will prepare you well, they do it right and you will be ready.
#miguels_boxing_gym

Railway Arches, 261-262 Hardess St (off Herne Hill Road), London, SE24 0HN