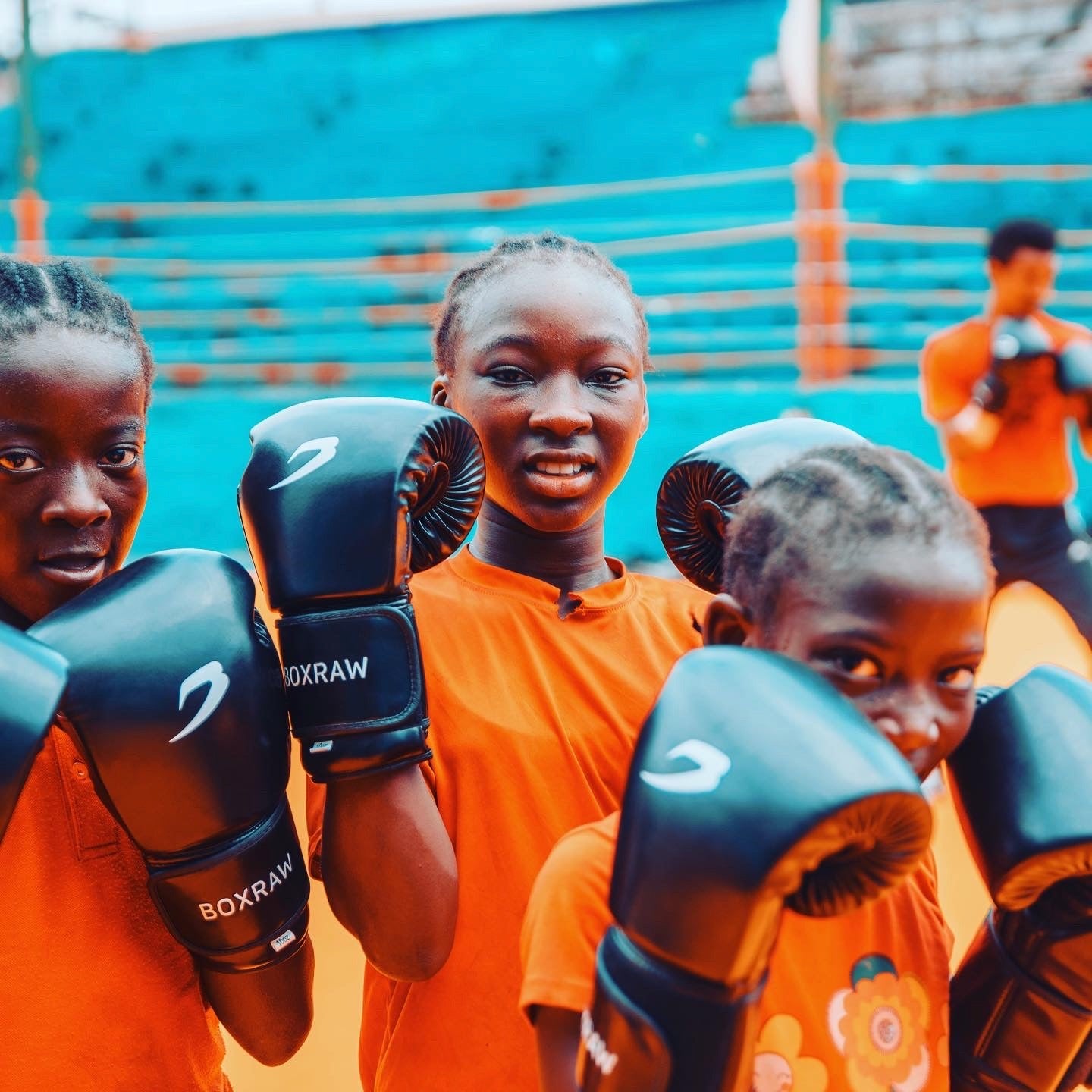 BOXING IS LOVE
Boxing Is Love (BIL) is an initiative using boxing as a vehicle to build a culture of independence and courage within a generation of young people searching for encouragement and opportunity, across the developing world. Founded by Jason Scalzo and sponsored by Boxraw, BIL is creating boxing programs and gyms, to help children who have limited access to productive outlets and opportunity. Boxing will help to shift the mindsets of these children, and systematically change the trajectory of an entire generation; nation by nation, glove by glove.
In November 2019, REAL volunteered to take part in a BIL expedition to Liberia. The aim was to inspire and teach the youthful population about boxing. In so doing install a sustainable affinity for the sport, teach them a new skill, bring the community closer together and empower them with a new outlet of opportunity. In addition a site was secured and we initiated the construction of the first BIL gym.
"The purpose of Boxing Is Love – Liberia is to use boxing to empower and enrich the lives of the children of this nation as they overcome unique circumstances.   The children of Liberia, whether directly or indirectly, were victims of a war for which the impact can span a lifetime.  The large majority of young adults, in their late 20s/early 30s, likely served as soldiers around the time they were 10-12 years old.  If not, they certainly witnessed unspeakable violence at the hands of peers or even former classmates. Further, the cost of that violence has left a younger generation of Liberian children without parents, guidance, or encouragement.  The adults that remain have been tasked with providing positive leadership despite fighting their own demons within.   Intertwined in the struggle is the global perception of Liberia, and the narrative dictated by the media and various search engines.  Due to this distinction, the scariest byproduct of this war is this perpetual battle to overcome the past.  The country has gone through immeasurable change, but the world refuses to let go of the historical carnage that precludes it.  However, there is hope.  There is hope within the children, and there is definite hope within the natural landscape of Liberia.  As the team travelled from village to village, our guides told us stories of what used to be - buildings before they were destroyed, thriving trade markets, and glorious traditions.  When we took the time to listen (and look), it was clear that Liberia was still breathtaking, but it needed our help to show the world." (Boxraw website - https://uk.boxraw.com/blogs/boxingislove/)
Boxing is and always has been at the heart of the community. All the benefits of boxing transcend economics; they are open and available to any age, any gender and socioeconomic background. In our modern day, inner city, multi-cultural and transient communities, this is an ever more apparent and necessary gel. Despite a common perception of intimidation, boxing gyms are wide open to anyone and everyone who wants to give it a go. Seen from the outside these gyms don't showcase much glamour nor look like somewhere you'd expect to train side-by-side with the next world champion, but inside tells a very different story.
The gym is a gathering point, a place to go that offers opportunity, an outlet and belonging. Whether it's in a class, holding the pads, hitting the pads, in the ring or holding someone's feet while they do sit-ups, boxing is a community. All of this is socially cohesive and builds purpose. Purpose strengthens our resolve and our ability to keep moving forward in the face of adversity. Learning how to box is a skill. Learning how to punch properly is empowering. All of this builds confidence and enhanced self-efficacy.
Boxing is punctuated by respect and inclusion. Those that compete know that hurt lurks behind every punch and this breeds respect for anyone willing to expose themselves to these dangers. Knowing the risks and evading punches reminds us of our own vulnerability and this is a humbling experience. Boxing levels out every perceivable, human difference. Whether training or competing, boxing is hard and is a badge of honour for those willing to try it. Boxing is a code of conduct, a lifestyle, an inclusive community; boxing is love.