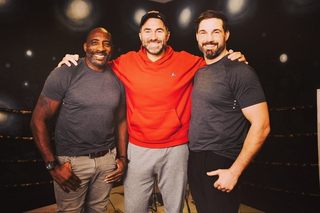 As I sat in the studio, trying to stay quiet while the live-recording was in process, the noise I remember was that swishy fabric-on-fabric sound that puffa-jackets make… everyone was trying to stay warm and wrapping their arms across their body. No heating!
Johnny and Jamie's energy radiated enough to distract us all from the cold, while they drew Billy-Joe on a number of topics surrounding his approach to training, where he'd come from, why he chose fighting and that he was getting ready for another fight. I hasten to add that Johnny and Jamie were both clothed in my 'System' joggers, which are built to battle the British winter …even indoors!
In conclusion, it's been nothing shy of a privilege and a pleasure to be involved with the FOTI podcast throughout. I haven't felt excitement like it before when meeting so many of my sporting heroes. Thank you to Jamie and Johnny for creating a message that will transcend any language-barrier and resonate with those in all four corners of the globe. Thank you for bringing levity, empathy and humour to every episode. Myself and REAL are very proud to have been involved with this masterpiece.