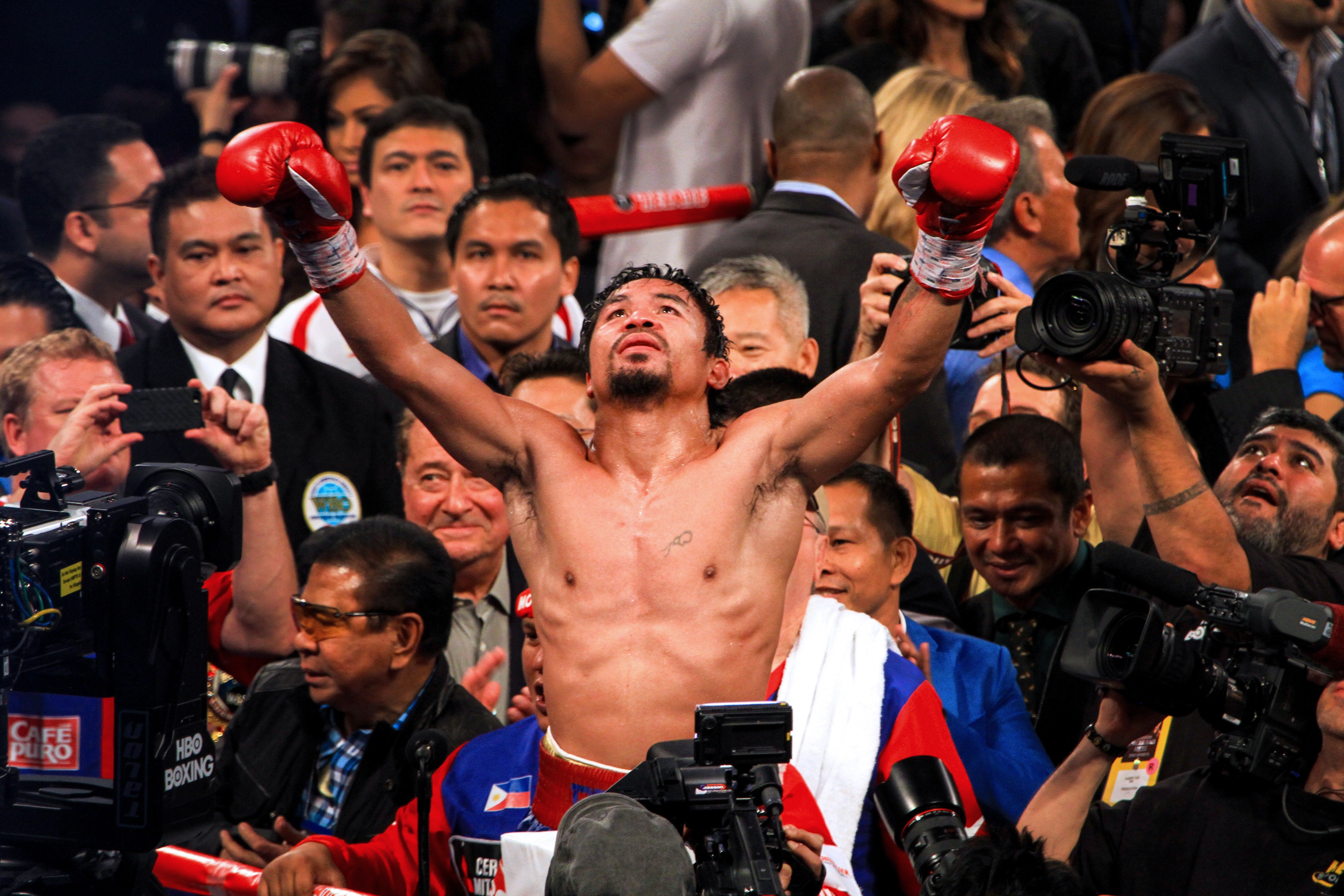 Ode to Manny 'PacMan' Pacquiao
Emmanuel 'PacMan' Pacquiao is an International icon of boxing and a senator who has all but officially declared his intention to run for the presidency of The Philippines, in next May's election. 
Born Emmanuel Dapirdrou Pacquiao, PacMan took up boxing at the age of twelve and turned pro four years later, making his debut (1995) as a Junior Flyweight in Manila, the capital city of The Philippines. No other boxer has ever fought across four decades and won twelve major world titles, across 8 weight divisions. Manny Pacquiao is also the only boxer ever to have parlayed his success in the ring into political clout. 
Manny was originally introduced to boxing by his maternal uncle, Sardo Meija. According to his biography, Manny says that watching Tyson lose to James 'Buster' Douglas in 1990 with his uncle Sardo was an experience that "changed my life forever". Sardo began training Manny and he was soon recognised as the best junior boxer in the Southern Philippines. Having moved to Manila and entered the pro ranks, he went unbeaten for 11 fights, before recording his first loss in 1996. He won his first world title and international acclaim, when he knocked out Chatchai Sasakul of Thailand to earn the World Boxing Council (WBC) flyweight title, in December 1998. After failing to make weight, he then lost the title to Medgoen Singsurat in September 1999. Pacquiao then moved up in weight class and in June 2001, in his first fight in the US, he scored a sixth-round knockout of Lehlo Ledwaba to win the International Boxing Federation (IBF) junior featherweight title. After four successful defences of his crown, he brushed aside Mexico's Marco Antonio Barrera with a technical knockout in a career-defining fight, in November 2003, to become The Ring magazine featherweight champion.
A significant milestone in PacMan's steep career trajectory came ten years after obtaining his first world title against Sasakul, when he was victorious in an eight-round, non-title welterweight bout against famed American boxer Oscar De La Hoya, in December 2008. De La Hoya decided not to continue with the fight before the start of the ninth round and PacMan won with a TKO. This fight grossed millions from pay-per-view and is notable for propelling Manny Pacquiao to full-blown superstar status in the USA. Manny had invaded the mainstream.
On 2nd of May 2009, Pacquiao won The Ring's junior welterweight championship (his sixth weight class as a champion) by flooring England's fan-favourite Ricky Hatton with a sensational one-punch knockout in round 2. In November of the same year he added another championship belt, in a record seventh weight division, when he defeated Miguel Cotto of Puerto Rico in 12 rounds to capture the World Boxing Organization (WBO) welterweight title. He increased his weight-class titles to eight when he soundly beat the WBC super welterweight champion Antonio Margarito, who outweighed Pacquiao by 17 pounds at the time of the fight.
Pacquiao continued with a 15-fight winning streak that came to an end when Timothy Bradley beat him for his WBO welterweight belt, in June 2012, with a controversial split decision. In December 2012 he lost a non-title bout to Juan Manuel Marquez, against whom Pacquiao had previously won two fights and drawn another. In round 6 of the fight, a brilliant and brutal right hand that PacMan never saw, put him face-down onto the canvas, out cold. His wars with Juan Manuel Marquez were scintillating entertainment and are forged in boxing folklore. He regained the WBO welterweight belt in April 2014 by beating Bradley in the re-match with a unanimous decision. 
Floyd Mayweather was the next major contender for Pacquiao in May 2015. This was a hotly anticipated contest that the boxing world had waited for more than six years to see materialise and billed "fight of the century" accordingly. Mayweather was an undefeated 5-time world champion at the time and has arguably proven to be the greatest defensive fighter of his generation. It wasn't to be PacMan's night and he lost by unanimous decision. The critics weren't enamoured by Mayweather's defensive approach and it was later revealed that Manny had sustained a shoulder injury int raining prior to the fight, so the bout was not what fans had hoped for. 
In July 2017 he lost a decision and with it the WBO welterweight title to  Australia's Jeff Horn. Many fans and boxing analysts argued that the judges' scorecards were flawed because it seemed as if Pacquiao landed more shots per round. Pacquiao bounced back to capture the WBA welterweight title in a victory over Lucas Matthysse in July 2018. On July 20, 2019, he won a split decision over the previously undefeated Keith Thurman to take the WBA super welterweight belt and become, at 40 years old, the oldest welterweight champion in boxing history. After two years out of the ring, at aged 42 PacMan was drawn to fight Errol Spence Junior, who was the unified welterweight world champion, holding both the IBF and WBC titles. A few weeks before the fight, scheduled for 21st August, Spence Junior pulled out due to retina damage and in stepped the Cuban welterweight; Yordenis Ugas. Ugas was seven years younger than PacMan on the night and had 5" height advantage. Ultimately Ugas proved too good and won by unanimous decision. 
Above is a synopsis of Pacquiao's career. It reads like a rather factual list of events, but this article is not long enough to elaborate on many of the most prolific moments when PacMan delighted boxing fans and won adulation from a global crowd, who were in awe of his energy, bravery, humility and unstoppable desire. His reputation as one of the greatest has been etched in the annals of history. He continues to inspire so many in the world of boxing. What makes him such a great fighter is his relentless volume of punches, his speed and agility, which constantly set-up new angles of attack. He often out-punched his opponents and simply overwhelmed them. The rapid-fire combinations and the intensity of Manny's style make it very hard for him to continue to compete at the very highest level. Pacquiao's career may well focus now on politics, but he will never stop fighting.