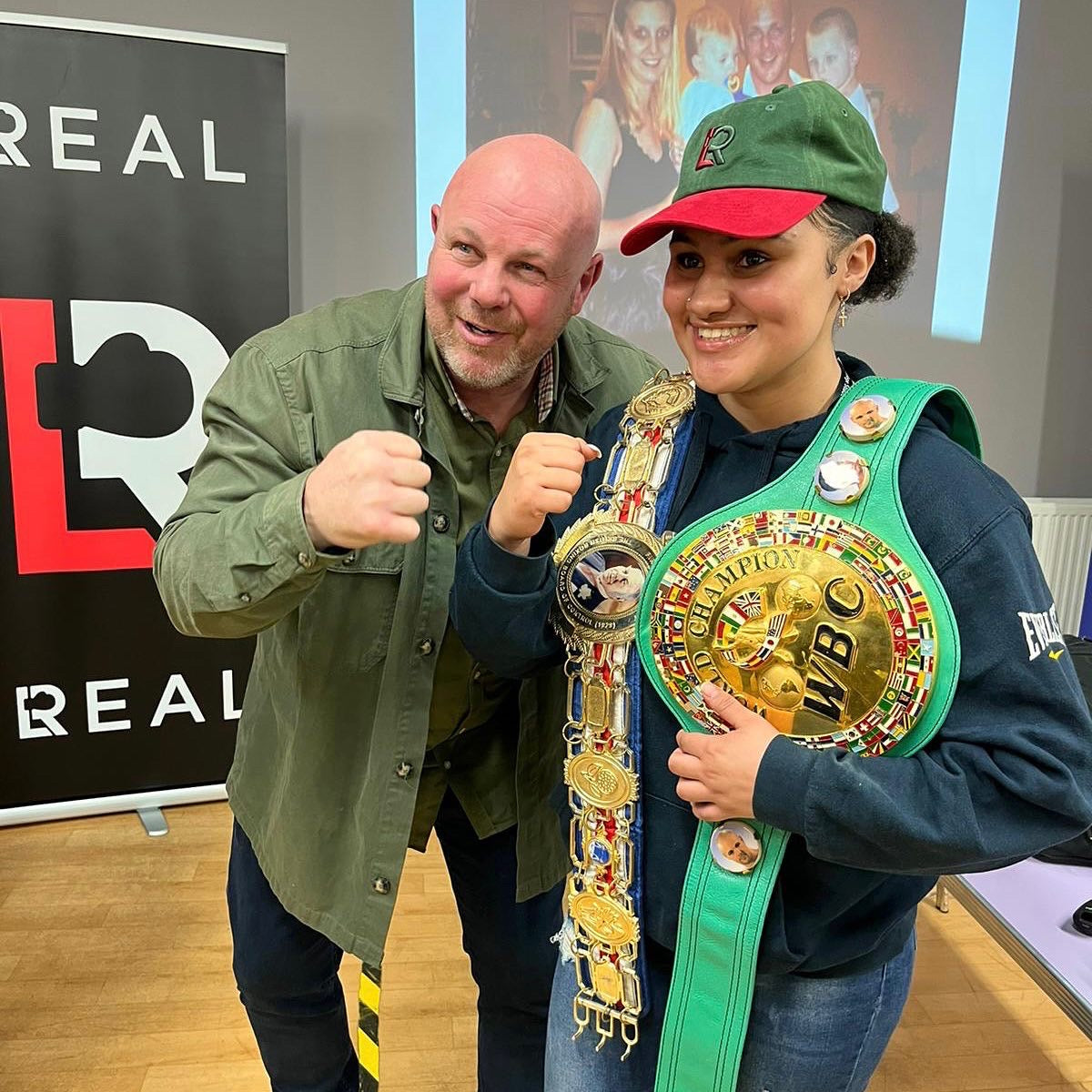 MINDSET OF A WBC CHAMPION
Former WBC World Champion Glenn Catley inspires youngsters to fulfil their unique potential with the right mindset
On Friday 11th March, REAL visited Empire Fighting Chance (EFC) in Bristol. EFC helps deprived youngsters change their lives and overcome emotional difficulties through the power of non-contact boxing, mentoring and therapy. EFC is an exemplar of how boxing can empower people, bring them to see their unique potential and build their confidence in a better future. We brought former WBC Super-Middleweight World Champion Glenn Catley with us, to talk to a large crowd and tell his enthralling story of success, predicated on the power of his mind. 
Since retiring from professional boxing Glenn qualified as a psychotherapist and hypnotherapist. He is a much sought-after motivational speaker and performance coach. He returned to Empire Fighting Chance - where he used to train as an amateur - to inspire the young audience by talking through his career, his mindset and what it takes to overcome difficulties and disadvantages to be successful. 
In front of a large and engaged crowd of youngsters, Glenn told his phenomenal story, which saw him rise from raw amateur to the pinnacle of world boxing, crowned as WBC Super-Middleweight World Champion in May 2000. He detailed how he was able to eliminate negativity, overcome obstacles and establish confidence throughout his career, which is paramount for success in any profession. Often Glenn had a matter of weeks and in one instance days, to prepare for what was to be the biggest fight of his career. He kept winning. He won because he trained his mind. 
Glenn is quick to suggest that he was not the best boxer on the planet. But what he may have lacked in physical skill was more than made up for with his mentality and mental fortitude. Boxing is as much mental as it is physical. Glenn used visualisation to repeatedly hypothesise his path to victory. This strength of imagery imbued Glenn with an impregnable confidence. 
Empire Fighting Chance mentor Matthew Fenwick said the evening was truly inspirational – not just for him but the young people who are trying to turn their lives around with boxing therapy and mentoring sessions.
He said: "As an amateur boxer myself, seeing Glenn's photos on the wall of the gym and listening to him talk blew me away. The number of people who turned up to listen is testament to how much Glenn is loved by the people of Empire Fighting Chance and also the local community."
Joel, 16 * agreed. He said: "Listening to Glenn was great. The way he told his story I kept thinking if he can do it, maybe I can do what I want.  I have nothing to be afraid of."
Empire Fighting Chance runs a structured 20-week programme and each week young people learn how to box and in between physical activities, the coaches embed powerful evidence-based psychological principles to encourage healthier thinking. Through mentoring, young people build the foundations for good physical and mental health, which results in a new sense of purpose, regular physical activity, a healthy lifestyle and positive relationships.
Thanks to a partnership with England Boxing, affiliated clubs can also now take advantage of free training and support on how to harness the power of boxing to help young people overcome behavioural issues and mental health problems.
Over the last 18 months, it has successfully trained and supported organisations across the UK to deliver the programme and is working with amateur boxing clubs to deliver their own sustainable projects.
Inspired by boxers, REAL exists to empower your full potential. Boxing is as much mental as it is physical.