DIRECTED BY JOHNNY NELSON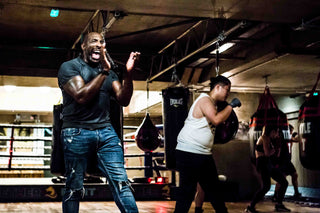 Learning 'Lines' from the Ingle script, 

Directed 🎥 by Johnny Nelson
On Saturday 24 September, REAL invited Johnny Nelson to Bermondsey Boxing Club - www.bermondseyboxingclub.com, to lift the lid on the famous Ingle-school of boxing. The enigmatic former world champion led a large group of boxing enthusiasts through a masterclass of footwork, switch-hitting and power punching. These characteristics in particular are what came to epitomise the style of fighting so famously associated with Brendan Ingle's gym, in Sheffield.
Brendan Ingle was a boxing trainer, manager and former professional boxer, who produced no less than four world champions out of his world-renowned boxing gym in the Wincobank area of Sheffield - www.theinglegym.com. He was awarded an MBE in 1998 for his services and contributions to British boxing and his work with young people in the Sheffield area. On his death in May 2018, former student Johnny Nelson paid tribute to Ingle as "the best trainer in the world". 
Speaking to Amer Khan, currently working with Dominic Ingle (Brendan's son), Brendan was first and foremost known as a man of his community and "who was like Mickey out of Rocky". Brendan was available and committed to the young in the surrounding community 24/7, with the foresight to see that these youngsters were the future. Brendan's motto was "making bad kids good and making good kids even better".
In total, Brendan trained four world champions, six European,15 British and six Commonwealth champions. Perhaps best known for acting as mentor and trainer to 'Prince' Naseem Hamed, a nickname that Brendan himself bestowed upon Nas. Prince Naseem was looked out for by Brendan from the age of 7yrs old to 25, becoming world featherweight champion in the process, before Nas switched allegiance to Manny Steward. Brendan also trained and managed Johnny Nelson into becoming the longest standing cruiserweight champion of the world, defending his title 13 times between 1999 - 2005, as well as Kel 'Special K' Brook (IBF welterweight world champion 2014 - 2017) and former wbc light welterweight titlist, Junior Witter. 
All of these fighters learned 'The Lines' assiduously, the Ingle way and this is what we learned from Johnny, at Bermondsey, on Saturday 24th September. Ahem, a better description would be that we were taught 'The Lines' by Johnny and whether we learned them or not will remain an open question. 
Brendan Ingle had an organic style as a trainer and using your feet to outdo your opponent was fundamental to boxing success. "The lines system was entirely footwork based" said Amer Khan and would teach everyone and anyone who stepped into Brendan's gym how to punch while in orthodox or southpaw stance, while on the front foot or the back foot and constantly change the angles.
While we paid attention to Johnny's intricate footwork, he switched from orthodox-to-southpaw stance in a forward then backward direction, working up and down 'The Line'. Having demonstrated more than once, he impressed upon us what Brendan Ingle impressed upon anyone who visited his gym, which was to relax and find your rhythm. Now I was once told that anything with a heart beat has a rhythm, but repeating what Johnny had been practising for so many years, initially made me feel like an elephant in high-heels. However when the music was turned up, the inhibitions diminished and the former world champion's charisma put us all at ease, which was exactly where we needed to be. It was in this atmosphere of levity and in the absence of self-consciousness that we all found our rhythm. Brendan Ingle would always talk about 'relaxed training' and that it had to be fun, which is not only empowering but infectious, which means you keep going back for more. Brendan was a masterful mentor in as much as he gave you the freedom to express yourself and encouraged character. 
"To be a good trainer, it's not just telling someone how to hit or move, it's being able to connect with the character of the individual… to make them believe in himself. Brendan was a mental expert", Said Johnny.
It's quite clear to see that Brendan was a master of man management and his record of British, European, Commonwealth and World champions attests to that. His "unorthodox approach to training, in so many different ways, is what made him so great", said Johnny. But first and foremost, Brendan Ingle "will be remembered for being a good man. He took on kids, their family, their family's problems and he made them his own, while balancing his own family, plus so many others" - Johnny Nelson.
Johnny himself will be remembered as a giant in the annals of boxing history. But Johnny would be the first person to say that he only went as far as he did, because he stood on the shoulders of a giant. 
To follow Johnny on Instagram: @johnnynelsonsky
To follow Brendan Ingle's legacy: @inglefoundation